Victorian Coal Fireplace Conversion
11/5/01
Built in 1892 this Columbus, Ohio Victorian was one of the last to be built with coal fireplaces. Columbus switched to gas in 1894.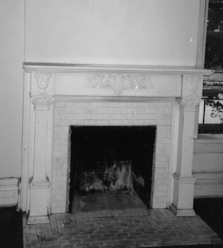 The original wooden mantel and encaustic tile surround was in good condition and the owners wanted it restored. The reason for the work was to make the fireplace safe and bring it up to code by lining the chimney and rebuilding the badly deteriorated firebox. There was no damper.
First order of business is to take it all apart. It looks like we set off a stick of dynamite in it but actually it took a couple of days to carefully remove the tile and mantel, clean it all up and get it ready to be re-installed.
The firebox is only 24" wide and 27" tall - typical of the Victorians. Using only a brick and a half for the covings as well as the fireback, the Rumford firebox is only 12" deep.
24" Rumford throat set.
And surrounded with brick.
Set the smoke chamber.
Set the first starter piece of 8" stainless steel flue liner in refractory mortar. The rest of the liner is dropped the next day from the top and must be tested and listed to UL 1777 for "zero-clearance" masonry chimneys.

[Construction Process Pictures]
Buckley Rumford Fireplaces
Copyright 1996 - 2001 Jim Buckley
All rights reserved.
webmaster