Buckley Rumford Fireplaces
"Rumfordizing" a 1950's Heatilator

Replacing a rusted out Heatilator
12/12/97

The rambler, built in 1954 had a double wall heat circulating metal fireplace form built in to the masonry. It was warped and rusted through in places and, besides, the massive painted brick surround extending 8" into the room looked heavy and dated and (in our opinion) ugly.
| | |
| --- | --- |
| Once we got the old rusted metal fireplace cut out and poured a new concrete hearth base, the firebox was laid out pretty much as it would be in new construction. | |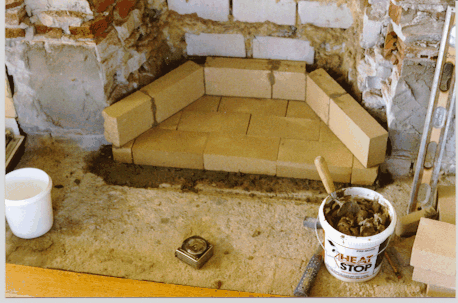 The firebrick was laid with premixed HeatStop refractory mortar.
| | |
| --- | --- |
| | The firebox was finished and washed and a new 30" Rumford throat was set. We were able to use the existing smoke chamber and clay 8"x12" flue although we did have to patch, parge and rebuild part of the smoke chamber using HeatStop II (the dry hydraulic refractory mortar that can be cast or parged in thicker layers). |
| | |
| --- | --- |
| We used a Superior Clay Terra Cotta surround glazed white which still looked kind of 50's but, because of the shallow Rumford, it only projected into the room about 3" instead of the 8" the old brick surround encroached. | |
| | |
| --- | --- |
| | Finished in time for Christmas. The terracotta mantel seemed to be in keeping with the 1950's house and the Rumford certainly was a better fireplace than the old Heatilator ever was. |

Other Construction Process Pictures
Buckley Rumford Fireplaces
Copyright 1995 - 2012 Jim Buckley
All rights reserved.
webmaster