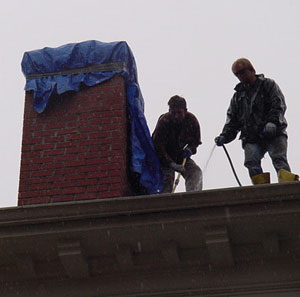 Chimney Safety Experts finish cleaning rebuilt chimney in the rain.
Gas flue. Chimney might be repaired, strapped and relined and re-inforced within the old, too large, flue.
Planning
Now that you've taken care of any immediate hazard, here are some things to consider before you start ro rebuild or repair or restore:
Is your chimney historically or architecturally important to the house?
Should your rebuild or repair your masonry chimney or put up a less expensive metal chimney - and is the metal chimney really less expensive?
Should you get several bids - hire an architect or engineer?
Code and Safety Issues
Whether you elect to tear down and rebuild, repair or restore your chimney it should be brought up to current code standards. In general this means that the chimney:
should be lined with a flue liner specified in the code or by UL 1777,
should have 4" thick solid masonry chimney walls and be 2" clear of combustible materials (unless lined with a lining system listed to UL 1777), and
should be re-inforced with steel bars and grout to tie the chimney together from the footer to the crown.
Building code officials recognize that older chimneys require special consideration. Still they are concerned that the chimney be "substantially" brought up to current code and, most importantly, that it be made safe and able to withstand future earthquakes. City builing departments may publish "typical" situations for which they provide guidelines like these:
1)Internal chimneys damaged above the roof must be rebuilt from the attic floor.
2) Chimneys on the outside of the house damaged at or above the roof must be taken down and rebuilt from the floor below the roof and strapped to the house at the floor and roof. Fireplace chimneys on one story houses must be taken down to the top of the smoke chamber and rebuilt.
3) Chimmeys damaged at the foundation or the first floor level must be rebuilt.
4) Chimneys taller than four feet above the roof must be braced.
Code officials also recognize that there may be special situations and they are open to alternative solutions such as:
1) Placing re-inforcing steel and grout in unused flues or around relined flues.
2) Re-inforcing the chimney externally with angle iron, steel straps or bracing.
3) Placement of re-bar and grout injection in existing work.
Hiring a Contractor
FEMA has a brochure on hiring a contractor. During an emergency there are some contractors that, frankly, take advantage of people and charge too much for shoddy work. FEMA and your local building official can refer you to legitimate and licensed contractors sponsored by the masonry industry who build in accordance with code. You don't have to use these contractors but we strongly recommend that you do for your own protection.

Help
For a recommended inspector, contractor, architect or engineer or to ask questions about your particular situation call:
Your local Building Official
Federal Emergency Management Agency (FEMA) - Mitigation Division, Olympia, WA (360 596 3337)
MIW "Masonry Chimney Hot Line"
866 649 BRICK (2742)
Further Reading