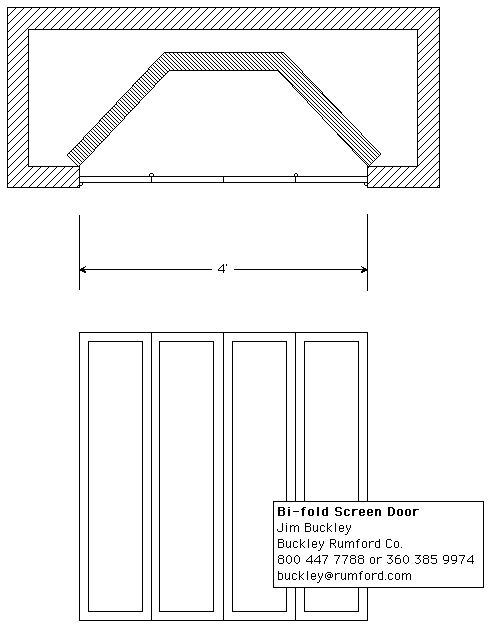 (Click on image for full size drawing.)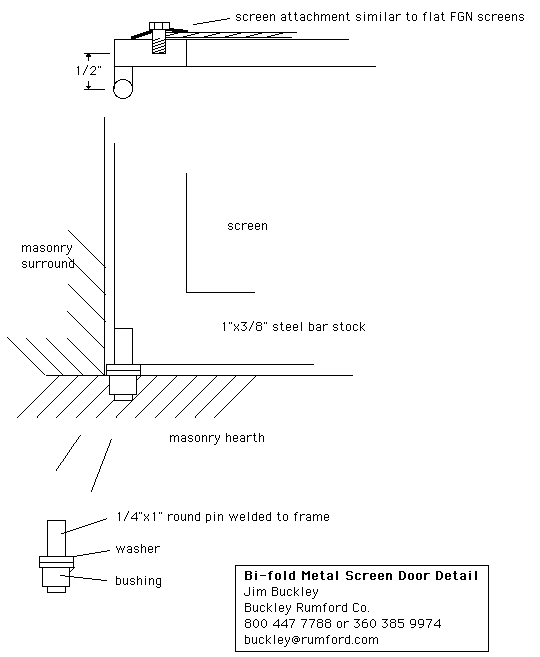 (Click on image for full size drawing.)
Sizes:
Once we get a prototype built we will want standard sizes to fit Rumford fireplaces with the following standard masonry openings:
30"x30"
36"x36"
42"x42"
48"x48"
60"x54"
72"x54"

The screens would be designed to fit just inside the masonry opening with about 1/4" clearance so, for example, each bi-fold set of two panels for a 48" Rumford would actually measure 47-1/2" tall by 23-3/4" wide.

Custom screens would be available at higer cost.
The Rumford eStore
Bi-Fold Screen Doors
5/30/03

Concept:

For large fireplaces, hinged bi-folding screens would be easier to open and close than large heavy free-standing screens.

Consistent with the taste of most of our Rumford customers, the screens should be "visually minimal and easily removeable". The paneled screen doors should be frameless in that they will be installed by means of pins bolted or welded top and bottom to each set of bi-fold panels and set directly into the masonry hearth at the bottom and into the angle iron lintel at the top of the fireplace opening.

With screen pockets or bolt-on screen panels, solid metal panels, glass panels or tile panels could be added making the screens compliant with many state engergy code requirements for glass or metal fireplace doors. The panels might also be changed seasonally or to match decorating changes.

Fabrication Notes:

This is a concept - not too detailed so as not to stiffle good ideas by the shop forman or welder.
Frames to be 1" x 1/4" or 3/8" steel bar stock.

Hinges between each bi-fold set to be weld-on 1/4" steel hinges. set so that panels fit close toghether and when folded are apart enough to accommodate screens and/or optional glass or tile panels.

Steel 1/4" pins bolted to the outside top and bottom corners of each set of bi-fold doors fitted into bushings set into holes drilled into the masonry hearth at the bottom and the steel angle iron lintel at the top of the fireplace opening. Hinge pins could be bolted on through larger holes drilled into the panel frame so as to provide a little adjustment.

Screen fabric to be attached to the panel frames in the same way it is attached to the FGN series screens with 3/4" mounting strips and bolts threaded into the panel frames. Glass, metal, tile panels might be added but, becasue these materials may be thicker, washers and longer fasteners might need to be added. Or make screen pockets into which metal or glass panels could be inserted from the top.